ABOUT BK
This is just a brief snyopsis for your review. Please take a minute to view my client sites in the web design studio to see what I've been up to since 1999!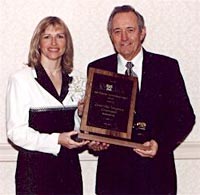 Receiving my National Telco Marketing Award!
Read my article each month in the Chillicothe Constitution Tribune. If you'd like to receive a copy, please email me.
I also wrote a feature article for the June/July, 2004, issue of the National Telco Cooperative magazine, Rural Telco.
Thank you! Brenda Fellhoelter
EDUCATION
Bachelor of Science in Education, Truman University, Kirksville, Missouri
Majors: Business & Economics (1979); English & Literature (1993)
Certification: G.P.A. 3.8 (Magna Cum Laude) with original degree; 4.0 English major; Lifetime certification to teach business grades 7-12; also certified to teach English grades 7-12
PROFESSIONAL EXPERIENCE
Public Relations/Marketing Coordinator
Green Hills Telephone Corporation (November 1, 1993 - May 28, 1999) James A. Simon, General Manager

Executive Secretary
Churchill Truck Lines, Inc. (February 23, 1976 - May 10, 1991) Kenneth Churchill, President

Adult Basic Education Instructor
North Central Missouri College (September 9, 1991 - May 22, 1992) Dawn Sovanski, Supervisor
MARKETING - PUBLIC RELATIONS
Board Member - Chillicothe Education Foundation (2004-Present)
Board Member - Grand River Historical Society (January 2012 - Present)
Board Member - Home of Sliced Bread Committee (Inception to Present)
Grand River Technical School Outstanding Service Award, May, 2007
Chamber Person of the Year 2006 - awarded January, 2007
Member Chillicothe Chamber of Commerce - Ambassador 2000 and Board Member 2001-2004 (President, 2004)
Member Grand River Area Family YMCA Board - 2001-2004 (Secretary 2002 & 2003)
Member Chillicothe Rotary Club (District Secretary 2003-04, Club Secretary 2006-2007)
Member NTCA PRNet (Public Relations Network)
Winner of NTCA Best Subscriber Communications Program award (1995)
Winner of 1998 NTCA TeleChoice Award for Best Annual Report
Cooperative Communicators Association, Membership Chair, 1997-98
Cooperative Communicators Association, Fellowship Award, 1997
Missouri State Coordinator for NTCA Legislative Conferences 1995, 1996, 1997
Bishop Hogan Memorial School Board 1992-1999 (past Secretary & past President)
Graduate of Dale Carnegie Leadership Course, 1995

Partner in Education four years; developed Co-ops 4 Kids "safe haven" program; developed and administered all marketing and public relations programs, implemented newsletters and annual reports for Green Hills Telephone, and coordinated and planned the annual meeting. Served as Missouri Community Betterment coordinator for several years as a Chillicothe Chamber Board member. Have attended many seminars, workshops, and conferences on cooperative education, economic development, marketing, software, MS Office & Power Point, editing, newsletter layout, photography, graphics, writing, and the media.
BK Web Works, © 2004, All Rights Reserved
10518 LIV 2313, Chillicothe, MO 64601
Email BK